Westshore Montessori School
Westshore Montessori School fosters independence, confidence, critical thinking abilities, and creativity in a warm and welcoming environment. Our hands-on, 'whole child' approach supports each student's unique qualities and individual learning style for a learning experience that's compelling, effective and fun!
Now offering programs from Toddler through Elementary (24-25). Spots are filling up fast, don't wait! Fill out the form below to book a tour or learn more.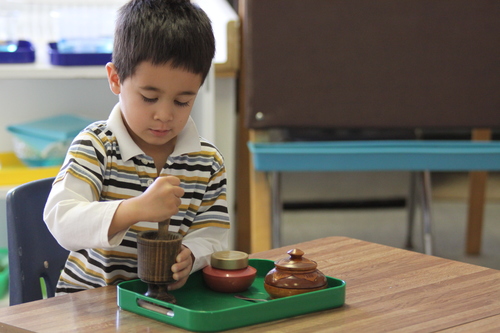 Authentic Montessori Education

Executive Director
Diana Betts
Thank you for visiting the Westshore Montessori School website. Our goal is to prepare an individual learning experience for every child. Our carefully prepared environment creates an atmosphere where children love to learn. We provide an innovative, yet time-tested curriculum which meets all children where they are and helps them develop into life-long learners and responsible citizens of the world.
Westshore Montessori School is a place where children are valued as individuals and we insure that all children have the opportunity to develop to their potential through guided instruction in a safe and caring environment. Montessori education encourages children to develop at their own pace, practice independence in their social and academic abilities, build self-confidence and establish good work habits which will enable them to become life-long learners.
Enrolling your child in a quality, Montessori program is an important decision. Many families have joined the Westshore Montessori School community after speaking with a current or alum family whose child attends/attended our school. I welcome you to make an appointment to speak further with our staff, a current or alum family or myself to learn more about our program.
Following the child,
Diana Betts
Executive Director
Beyond Westshore
We are often asked how children adapt to a new environment once they leave Westshore? The following are the skills each child develops at Westshore and how we have laid the foundation for life.
MANAGEMENT – Montessori students are used going to the bathroom when they need to go, they sharpen their pencils when they need to, and they get up to get something that they need to complete their work. The only time they ask for permission to get up is during a lesson or if they have been abusing the privilege. The Montessori child understand each environment they enter and can adapt to new situations with ease.
SOCIAL– Montessori students are used to working together and helping their peers. They are used to using conflict resolution skills to work through their problems, they are used to the teacher not only respecting their input and opinions, but encouraging them, and they are use to respecting other children's needs and having their needs respected. These skills are used in the traditional classroom and throughout life to adjust to new situations.
ACADEMIC– Montessori children are use to being able to move on to new material when they are ready for that information. They are also used to saying to the teacher, 'I'm having a lot of problems understanding this concept, could you show it to me in another way?" or, "I really understand this concept, can I please take a test on it and move on to the next concept?"
Montessori children are unusually adaptable. They know how to work independently and in groups. They are problem solvers who can make choices and manage their time well. Our students typically transition well into the new environments they encounter. We have given them the foundation that not only prepares them for success in academics but for life.
Mission & Values
The mission of Westshore Montessori School is to provide an authentic Montessori learning environment where every child may establish a lasting foundation for achieving their full potential in learning and in life.
An "authentic Montessori learning environment" is one that:
✅ is inclusive and welcoming
✅ contains beautiful, quality materials
✅ comprises multi-age groupings
✅ includes specific materials organized into particular work areas
✅ involves teacher-supported, self-directed learning
A "lasting foundation" means a child develops the following traits:
✅ interest in purposeful work
✅ focus
✅ self-motivation
✅ peacefulness
✅ love of learning
✅ self-control
✅ self confidence
We value:
✅ working from where the child is
✅ a beautiful environment and quality materials
✅ an experienced, committed, well-trained staff
✅ community responsiveness
✅ parent and family education
✅ global perspective and impact